Learn to PLay Piano By Ear - Left Hand Techniques
Simple Step By Step Piano Lesson. If You Cant Learn Piano From These Lessons Then You Cant Learn Piano Anymore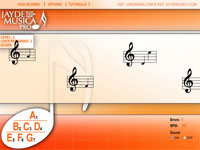 >> Dont Even Think Of Trying Other Prodicts untill You Read This <<
The tenth (10th) chord is an excellent technique you can use on your left hand. The 10th chord is basically following this:
Every major chord is made up of the numbers 1-3-5 of the scale played simultaneously. Basically, the 10th chord is made up of these three numbers inverted and played either simultaneously or in a "roll" form.
1-5-3 (the 3 actually becomes the 10)
For example:
C D E F G A B C D E F G A B C
1 2 3 4 5 6 7 1 2 3 4 5 6 7 1
1 2 3 4 7 6 7 8 9 10 11 12 13 14 15
That means that on the left hand you would play C-G-E. Now this may be rather hard for some of you. In fact, when I started playing the 10th chord I have to "roll" it until my fingers stretched out enough to play it as a chord. (I'll focus on stretching exercises later.)
HOW DO I USE THE 10th CHORD ON SLOW TO MODERATE SONGS?
The most common way of using the 10th chord is to use it on the left hand on most "down" beats. It creates a wonderful full sound. Another common way to use the 10th chord is in a roll. This would mean the pianist would create the rhythm to the song playing the following numbers:
Moving up the keyboard: 1-5-3-5-1 (repeat)
So, if you were in the key of C and you were in the C chord change, while your right hand is playing the melody to the song, the left hand would follow the pattern above and would look like this:
Moving up the keyboard: C-G-E-G-C
When you get to the F chord change:
Moving up the keyboard: F-C-A-C-F
Wow! What a difference in the full sound it gives! Try the 10th run!
Matthew Stephens has been playing the piano for over 27 years and giving piano lessons by ear for 17. Learn more about him at http://www.thepianobyear.com
Labels: chord_learn_music_piano_piano_play_presto_read, leapfrog_leapfrog_learn_piano_see, learn_to_play_gospel_piano